Jet Plasma is the most advanced Plasma technology used to brighten and tighten skin, shrink pores and promote high levels of collagen regeneration. Jet Plasma does not create surface trauma like traditional Plasma Fibroblast, which leaves dots on the skin and requires downtime. This pain-free, no downtime treatment penetrates plasma through the epidermis, into the dermal and subcutaneous layers of the skin stimulating high levels of collagen and remodeling the cellular structure from the inside out. Jet Plasma is used for non-surgical facial treatments, acne treatment, anti-inflammation, skin lightening, treatment of hyperpigmentation and aids in product absorption that otherwise couldn't penetrate as deep without needle injection. Jet Plasma is suitable for all skin types!
Jet Plasma1Face & Neck $240
Jet Plasma PACKAGE OF 4 Face: $880
Jet Plasma PACKAGE OF 8 Face & Neck: $1,680
Jet Plasma CHEST ADD-ON: $150
Add BioRepeel, Mesotherapy or Led light at an additional cost to enhance your Jet Plasma Results!
WHAT IS JET PLASMA BENEFICIAL FOR?
Acne
Hyperpigmentation
Aging and Damaged skin
Laxity
Collagen remodeling
Diminishing wrinkles
EFFICACY
During plasma skin tightening, the heat that comes into contact with the skin causes collagen fibers to immediately contract. This leads to visible improvements in skin laxity and a decrease in wrinkles, fine lines and crow's feet. Low-energy plasma skin tightening (Jet Plasma), which has zero downtime, may require multiple treatments for more visible skin tightening. In contrast, high-energy treatments (Plasma Fibroblast) require fewer treatment sessions, but the downtime and side effects are amplified. Examination of the skin 3 months after a treatment demonstrate the continued formation of new collagen. Improvements to the tissue continue for years and result in firmer and more contoured skin.
HOW ARE JET PLASMA SERIES TREATMENTS SCHEDULED?
Your first three Jet Plasma treatments must be completed within 2 weeks. This is HIGHLY RECOMMENDED so you get the very best results. After those three treatments, your appointments can be scheduled one week apart however, the closer together you can have the treatments done, the better. Treatments can be scheduled 48 hours apart.
HOW LONG DO JET PLASMA RESULTS LAST?
Results from a Jet Plasma treatment ranges two to five years. Longevity of results is dependent on age, health, lifestyle choices, sun exposure, skincare routine etc… Like with most skincare treatments, a series is recommended for best results. For Jet Plasma, a series of 4-8 is ideal. Clients can see immediate improvement with just one treatment however, it's important to understand that the skin will continue to improve as high levels of collagen regenerate over the next 6-8 weeks. Jet Plasma can be used anywhere on the face and body. Once the desired results are achieved, you can schedule a treatment as needed for maintenance.
ZERO DOWNTIME!
Jet Plasma is a completely pain-free treatment, which means no numbing is needed. During the treatment, you may feel slight warmth in some areas. There are no significant side effects following a Jet Plasma treatment. You may have some slight redness and your skin may feel somewhat tight however, no visual recovery time is required after this treatment.
CAN JET PLASMA BE PAIRED WITH OTHER TREATMENTS?
Jet Plasma is non-invasive, meaning that clients can receive certain other skincare treatments in conjunction with Jet Plasma. Ask your esthetician about pairing Jet Plasma with another treatment to achieve your ideal aesthetic goals. If you get Botox or Filler, you MUST wait 2 weeks after the injection before receiving a Jet Plasma treatment.
WHAT IS THE AFTERCARE FOLLOWING A JET PLASMA TREATMENT?
Following your treatment, the channels created in the skin are open therefore it is important that No makeup can be worn after the treatment for 12 hours. It is also recommended that you do not exercise, enter a sauna or be exposed to steam for 12 hours post-treatment. Once a Jet Plasma treatment is performed, go home and binge-watch something on a streaming service.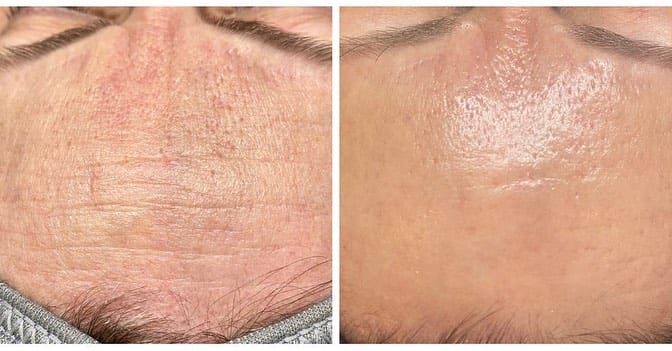 CONTRAINDICATIONS
Pacemaker
Pregnancy
Hypersensitive
Cancerous lesions
Implanted neurostimulator
Any electrical implanted device or implanted slow medication release