BioRePeelCl3- Zero Downtime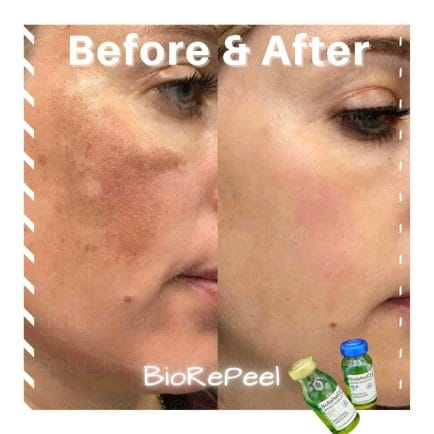 Beautiful Skin by Carmen is a premier provider of Bio-Stimulating BioRePeelCl3 "No Peel" Facial Peel from Italy. This is the most innovative treatment we have seen to date that repairs damaged skin tissues and regenerates the skin.  Typically, bio-simulating treatments include injecting hyaluronic acid into the skin, which is very effective.  However, for those interested in bio-stimulators without the use of injection and those interested in receiving the benefits of a chemical peel but do not want the skin to exfoliate, the Bio-Revitalizing BioRePeelCl3 "No Peel" Peel treatments are ideal.  These advanced, biphasic bios-stimulating treatments contain 35% TCA and synergistic and proprietary blends of ingredients like Salicylic acid, Tartaric acid, Vitamin C, Amino acids & Vitamin B2 to deeply penetrate the dermis without the peeling effects of a chemical peel and do not cause photosensitivity — sensitivity to UV rays.
Treatment Information
With BioRePeelCl3 you get a revitalizing peeling which supports the skin with a biostimulating effect at the same time. More specifically, this product is intended for face, underarm, neck and décolleté treatments. BioRePeelCl3 is ideal for those who want an innovative exfoliator that does not stress the skin but revitalizes it at the same time. Dead skin cells are efficiently removed and thus ensure a fresh, youthful skin appearance. In addition, the innovative revitalizing formula of BioRePeelCl3 supports the fight against acne and eliminates blackheads.
This peeling can help to counteract the harmful environmental influences of UV radiation, for example, but also the consequences of skin ageing. After the treatment, moisturizing factors ensure a wonderfully relaxed skin feeling and a lastingly beautiful complexion. Fine lines and first signs of skin ageing on the facial skin, neck and décolleté can be effectively reduced with regular use. The skin receives new freshness and elasticity.
The BioRePeel Treatment series
Thanks to their formulation, BioRePeel products can be used all year round, are age-free and are an ideal complement to other beauty treatments. The effects of BioRePeel products are immediately visible. Their mode of action lies in the combination of several active ingredients which together achieve a revitalization of the skin. Peeling substances ensure fresh skin and at the same time stimulate the metabolism. At the same time they create the conditions to allow skin nutrients to be absorbed especially deep into the prepared skin areas. Although BioRePeel focuses on sensitive facial skin, the manufacturer offers more than just a product for face, neck and décolleté. A further treatment designed for all other parts of the body provides relief for chapped hands, underarm, elbows, knees and feet. When used regularly, users enjoy lastingly beautiful skin. Because the treatment effect is long-lasting due to the stimulation of the body's own collagen production: The skin remains soft and delights with a youthful appearance and new elasticity. The BioRePeel service is prepped with 4Ever Preconditioner and after the peel we finish off with nourishing serum cream and SPF.
The treatment should be repeated every 7-12 days with peel only. Every 10 to 14 days with peel + needling.
4-6 sessions are recommended for optimal effect.
Package of 4 one layer of peel/face $640 (Reg $800 Sav $160.  One Trial Peel $200
Package of 4 one layer peel/face/neck $800 (Reg $1,000 Sav $200).  One Trial Peel $250
Package of 4 two layer peel + Needling face $1,280 (Reg $1600 Sav $320). Trial Peel $400
Package of 4 two layer peel + Needling for face/neck $1,520 (Reg $1,900 Sav $380). Trial Peel $475
To View BioRepeelC13 FAQ's -> Click Here
Perfect Derma Peel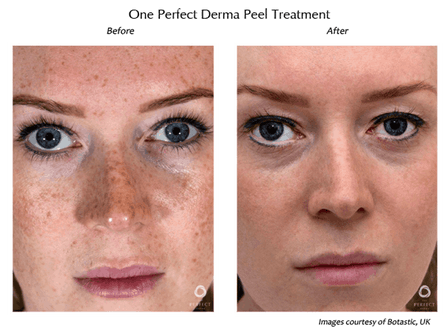 The Perfect Derma Peel can be used on all skin types, requires no pre-peel skin preparation, takes less than 15 minutes and is virtually pain free. The Perfect Derma Peel combines: Glutathione, Kojic Acid, TCA, Retinoic Acid, Phenol, Salicylic Acid and Vitamin C.
The antioxidant Glutathione neutralizes the harmful effects of free radicals, actually slows down the aging process and prevents wrinkles. Kojic Acid is a powerful lightening agent and proven to increase collagen and elastin production, resulting in skin that is brighter and tighter. TCA, Phenol and Retinoic Acid reduce wrinkles and correct pigment problems, while Salicylic Acid exfoliates the skin and reduces inflammation. Alone the ingredients are powerful, but the combination produces amazing results. Improve the overall tone and texture of your skin, Remove or reduce sun damage and age spots, Reduce pore size and soften fine lines and wrinkles, Reduce or eliminate hyper-pigmentation and acne scars, Stimulate the production of collagen resulting in firmer skin.
Amazing Results
Improve the overall tone and texture of your skin
Lighten and brighten your skin
Remove or reduce sun damage and age spots
Reduce pore size and soften fine lines and wrinkles
Reduce or eliminate hyper-pigmentation and acne scars
Improve acne skin conditions and Melasma
Stimulate the production of collagen resulting in firmer skin
The Perfect Derma Peel $325 per treatment (includes take home peel kit)
The Perfect Derma Peel with Booster $375
To View The Perfect Derma Peel FAQ's -> Click Here
Clinical Treatment Level I $75
Level 1 peel with Basic Microdermabrasion $134
Superficial peeling. These series building treatments are designed to treat and correct fine lines, wrinkles, pigmentation, dehydration, rosacea and acne. Using a cocktail of ultra-resurfacing ingredients to exfoliate dead surface skin cells, leaving skin firmer, lighter and healthier. Clients will need to purchase a post treatment kit. Signature, lightening, wrinkle or Acne Lift. (6 Treatments at 2 week intervals is best)
Clinical Treatment Level II $99
Medium to Moderate Peeling. Lightening Lift II Wrinkle Lift II & Acne Advanced Lift II. Clients will need to purchase a post treatment kit. (4 Treatments at 2 wk intervals)
Advanced Clinical Treatment Level III $150
Advanced Clinical Treatment Forte Plus $175
Very aggressive peeling treating deep lines, stubborn pigmentation, acne scars and problematic issues. A triple effect peel. Possible downtime and peeling is noticeable. Must be on a 2 week glycolic/salicylic home treatment before service. Advanced Clinical Treatment can be done monthly. You leave the Spa with your peel on to be washed off the next morning. Clients will need to purchase a post treatment kit.
PCA Sensi Peel One Layer $100
PCA Sensi Peel Two Layers $125
PCA Sensi Peel 3 to 4 Layers $150
During your consultation visit we will analyze your skin to determine the appropriate chemical peel treatment.
Please inform us if you are using Retin A, Accutane, Renova or differin. Please discontinue use of AHA's Retinol or Glycolic for 3 to 7 days prior to peeling service.
Smoothing Body Peel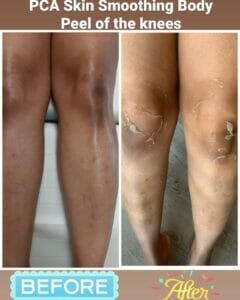 The Smoothing Two Step Body Peel is a treatment specifically for the skin on the body. An exclusive blend of TCA, salicylic acid, lactic acid as well as L-arbutin, L-lactic and kojic acids provide smoothing, firming and brightening benefits, producing an overall improvement in skin tone, texture and appearance.
You will need more than one to achieve your desired results. We recommend at least three two weeks apart.
Neck $50
Back of hands $100/both hands
Half back $150
Lower ½ Leg (includes both legs back and front) $150
Butt Cheeks $150
Décolleté $150
Half arm $175/both half arms
Full back $225
Upper ½ of Leg (includes both legs back and front). $225
Red Carpet Facial $229
Anti-pigmentation, oxygenating, peeling treatment at Beautiful Skin by Carmen. This facial blends together a flawless fusion of non-laser skin resurfacing technology and cellular oxygenation in need of the perfect Red Carpet look. It brightens and evens skin tone, fades dark dull spots and offers superior anti-aging benefits. While a layer of Sensi peel helps to lighten melanin and tighten skin. Advanced vitamins C, E & b3 helps to brighten, firm and nourish the skin to diminish fine lines and wrinkles. The result is younger looking, velvety soft skin. This treatment is ideal for all skin types. You Esthetician will customize it for your individual needs.
Includes a post-treatment kit. Does not include extractions but can be added on at the time of booking for $45
We suggest that you do this the day before an event where you will not start flaking and it will be tighter. If not possible, do it 5 days or more before your event just in case you start flaking. This will give you time to exfoliate.